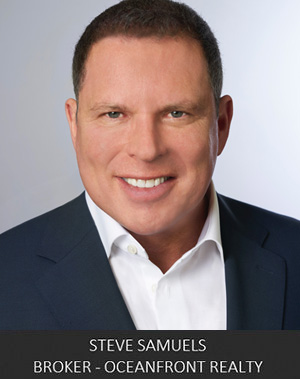 Hello, my name is Steve Samuels and welcome to my Tampa Bay and South Florida website.
Thank you for visiting my website. I, and my team at Oceanfront Realty have always believed in providing the highest level of service to our clients and will always have your best interest at heart.
I love living in Florida and have found my niche in specializing in the most sought-after oceanfront, bayfront, luxury real estate in Tampa, St Petersburg, Clearwater, Sarasota, Fort Lauderdale, Miami, Miami Beach, Bal Harbour, and Sunny Isles Beach.
ABOUT STEVE SAMUELS
BROKER - OCEANFRONT REALTY
For over 20 years, Steve's clients have entrusted him with the sale of their most valuable assets - their homes.
Steve Samuels, Broker of Oceanfront Realty has worked with buyers, sellers, and luxury real estate developers, managing the sales of nearly half a billion dollars in property. With a deep understanding of market complexities, Steve has successfully sold luxury properties in a variety of economic climates: sourcing the right buyers for fine properties and negotiating the best deals for his buyers and sellers.
Steve graduated from the University of Miami with a Finance Degree with an emphasis in real estate investment and development. The booming Miami real estate marketplace quickly came calling and he quickly discovered his career path. From the beginning, Steve was a force in the brokerage community challenging the establishment with a natural prowess for spotting deals and doing everything in his power to make sure his buyers secured them.
As a Tampa Bay home builder and licensed building contractor, Steve understands how to work with clients who are building custom homes and condominiums to add value from the initial design process. Samuels states, "When building a new home or condominium, it helps to have someone who understands the process from all sides. With a few recommendations, I help buyers make good decisions that can enhance their home's worth and save money at the same time."
Serving Tampa, St. Petersburg, Clearwater, Sarasota, and South Florida. Specializing in luxury waterfront homes, and condominiums in the most sought-after oceanfront and bayfront real estate in Tampa, St Petersburg, Clearwater, Sarasota, Fort Lauderdale, Miami, Miami Beach, Bal Harbour, and Sunny Isles Beach.
With Steve's experience, reputability and market knowledge, clients feel confident navigating today's market. He offers a wide range of experience from every aspect of the industry, representing sellers, buyers and investors in the residential market with integrity and professionalism.
Since opening Oceanfront Realty in Tampa, Florida, Steve has been able to share his experience of the real estate industry with his satisfied clients.
Steve has proven an invaluable broker and leader in the Tampa Bay and South Florida Real Estate marketplace and is proudly continuing that tradition with each new client and property he takes on. 'My mission is simple, to make your real estate experience as cost-effective as possible, while maintaining the utmost standards of integrity and professionalism."
Outside of his professional endeavors, Steve enjoys traveling, dining at fine culinary establishments, and partaking in a number health and wellness activities. His charitable efforts with the American Cancer Society, the Alzheimer's Association, and Women in Distress exemplify his commitment to his community.